Top Ten Comics of 2012
This year has come to a close and we survived the Mayan apocalypse, The Owls attacking Gotham, and the Avengers going to war with members of the X-Men. Personally, I survived many trips to the Columbus Book Exchange and Comics to pick up comics every week. I saw plenty of hits and misses but there were some hits that hit harder than others and today those are the titles I am looking at as I give you the Top Ten Comics of 2012.
Honorable Mentions: Wonder Woman, The Walking Dead, Swamp Thing, Punk Rock Jesus, Batman & Robin, Earth 2, Wolverine and the X-Men
10. Thor (Marvel):  The only thing preventing this series from being higher on the list is the relative few number of issues that have been released thus far. Part of the Marvel NOW! relaunch, writer Jason Aaron and artist Esad Ribic found what makes Thor unique within the pantheon of Marvel heroes and ran with it. Under their guide the series has become less of a superhero comic and more of a sprawling fantasy epic complete with monsters, murdered gods, and violent battles. Jason Aaron shows off his talent for writing tough-as-nails characters who are still vulnerable enough to resonate with readers while Ribic's artwork looks like it was torn from the pages of a prestige format story book.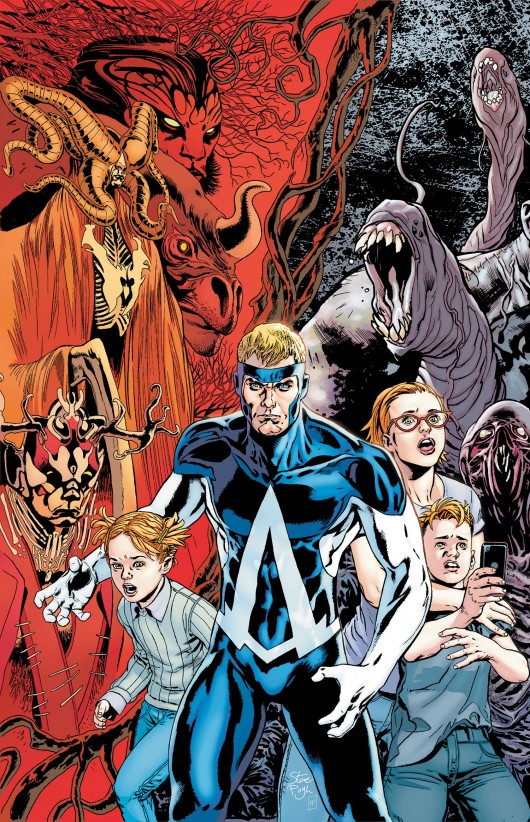 9. Animal Man (DC): This is the book that made a break out star out of writer Jeff Lemire as he tackles DC's heroic family man. In this series a new supernatural element is introduced to threaten not only Animal Man and his ally Swamp Thing but the entire DC Universe in the form of The Rot, This entity not only seeks to destroy all life but it has also made things personal for Buddy Baker and his family pushing Animal Man to greater extremes than perhaps any other super hero this year.
8. Hawkeye (Marvel): Who would have thought that Marvel's magenta clad Green Arrow-knock off would be able to anchor his own book after decades of being thought of as inseparable from the Avengers? Apparently the creative team of Matt Fraction and David Aja have found the perfect style for a Hawkeye solo series by turning the Avenging Archer into the star of a series of sexy, fast-paced, espionage-laden adventures that would put James Bond to shame. Fraction creates a story that keeps readers anticipating each new panel while Aja's sleek visuals are just plain cool.
7. Batgirl (DC): If any book of DC's New 52  caused a storm of controversy it was Batgirl. Scribe Gail Simone was given the unenviable task of taking Barbara Gordon out of her wheel chair and back into her batsuit thus removing Oracle from the DC Universe. Readers (for most part) quickly forgot about these issues when they saw the brand new take Simone had in store for the heroine. True Gordon wore a mask and cape and fought crime but at her heart she was a young woman who became instantly relatable to readers not just because of her battles against a terrifying new rogues gallery but also because of her battles that come with moving out on her own and dealing with complex family issues. The book has blown away readers expectations so thoroughly that the latest controversy it caused was when DC fired Simone from writing duties…but fear not they reversed that decision.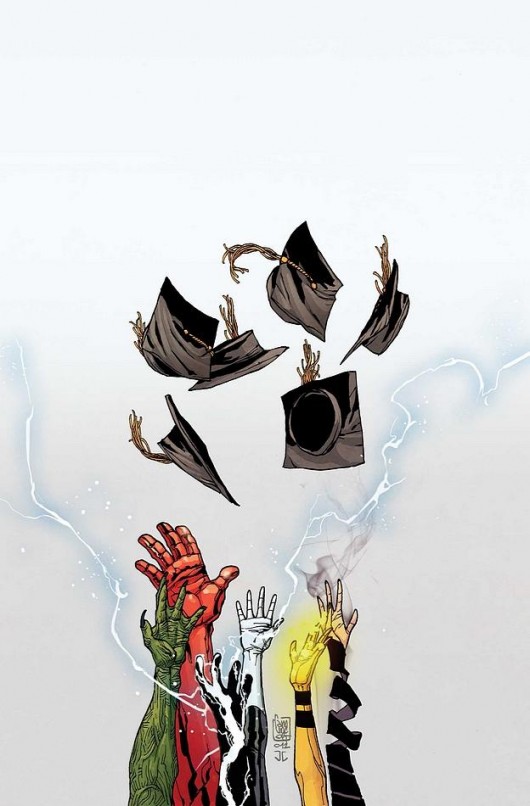 6. Avengers Academy (Marvel): A series that was sadly a casualiity of the Marvel NOW! relaunch but left a huge impression on its devoted readers. Right before our eyes we watched as the teens of this comic grew from rebellious youths into…well rebellious youths with a newfound purpose. Writer Christos Gage succeeded where so many other have failed in writing younger characters by keeping the characters believable and never gave readers the feeling he was pandering to them. Though the series came to an end this year they were given time wrap up all of their loose story lines and give the academy students the graduation they deserved.
5. The Manhattan Projects (Image): During the Second World War the United States government put together some of the most brilliant minds in the world in what was dubbed the Manhattan Project, but this series from Jonathan Hickman and Nick Pitarra poses the idea that it was all a front for more esoteric scientific ideas. Bizarre science fiction takes on famed researchers such as; Wernher von Braun and J Robert Oppenheimer, use their unlimited resources to give readers a completely insane science fiction romp. Now that the members of the Manhattan Projects have teamed with their Soviet counterparts for an extraterrestrial adventure we can only wait with anticipation for what comes next.
4. American Vampire (Vertigo)/ Severed (Image): With his successful run on Batman gaining huge amounts of acclaim from it is easy to forget that writer, Scott Snyder made his name by writing adult oriented horror comics. While American Vampire continued to be the best comic published by Vertigo, his mini series Severed  came to an absolutely chilling conclusion. Both comics gave us intriguing and complex characters set against a brilliant historical backdrop giving a sense of realism to his stories. If you missed Severed  I highly recommend you pick it up and give it a shot, horror fans will not be disappointed. Likewise American Vampire gives readers a perfect jumping on point every couple of months, so that they may be able to see what all of the fuss is about.
3. Daredevil (Marvel): Veteran comic scribe Mark Waid has done what has been long thought impossible; he has taken the gritty pulp hero Daredevil and infused his world with an old-school Marvel sense of fun.  Many have cited that since Frank Miller's legendary run on the series, that Daredevil had become an increasingly self pitying and tragic character, but Waid has brought a sense of fun back to the character that had been absent for so many years and the bright clean art of Marcos Martin and Paolo Manuel Rivera helping to create this new atmosphere for Ol' Hornhead.
2. Saga (Image): In 2012, famed comic writer Brian K. Vaughn returned to comics, but rather than going back to the familiar territory of DC or Marvel, Vaughn took a huge risk and took his talent to Image as well as his idea for a romantic comic that took place in a vast immersive science fiction/fantasy universe the likes of which was brand new to comics. Not only did he succeed but he ended up creating one of the most acclaimed comics of all time. In a universe at war Alana and Marko come from two opposing sides and have fallen in love and brought forth a child despite all the odds being against them. Adding a sense of grandiose to this epic series is the artwork of Fiona Staples who's visuals are clean and realistic yet have a magnificent sense of scope, making Vaughn's universe feel like a vast and vibrant place, a setting which can easily be compared to the likes of Middle Earth or the Star Wars Universe.
1. Batman (DC): It seems amazing that after seventy years in the four colored pages, DC Comics' most popular character is still as intriguing as ever. Under the creative team of Scott Snyder and Greg Capullo Batman has had been the best comic book series of the year. Beginning this year they blew us away with the Dark Knight taking on a secretive society with a dark secret and now readers are in the middle of what is possibly the best Joker story since the Killing Joke. Snyder has continued to blow readers away with not only his complex plots and terrifying villains but also with his understanding of the character of Batman. Greg Capullo's talent for dreary atmospheric artwork is in full swing on this series as he creates the perfect look for Gotham City, he also displays a knack for adrenaline fueled action scenes and the glitz and glamour of Bruce Wayne's public life. Even the few filler issues of this series have been incredibly important to the complex plots of this series which shows no sign of slowing down.
---
---
---