Loose Staples (11/21/13)
Welcome back to Loose Staples, your place for news, reviews and opinions of the goings on in the comic book world. You can peruse The Spinner Rack to catch up on all the talk around the web, check out my opinions on the latest comics with Bagged & Boarded, or discover something you may have overlooked with Back Issues. Well, get going!
The Spinner Rack
Let's start with Batkid, via IGN. I know, you've all heard it and read about it, but, it never hurts to be reminded of just how great humanity can be when it wants.
IGN also has an interview with director James Mangold about the upcoming Unrated edition of this summer's The Wolverine.
Check out this Mojo statue from Bowen Designs and Rocky's Vault. The Spineless One has never looked creepier.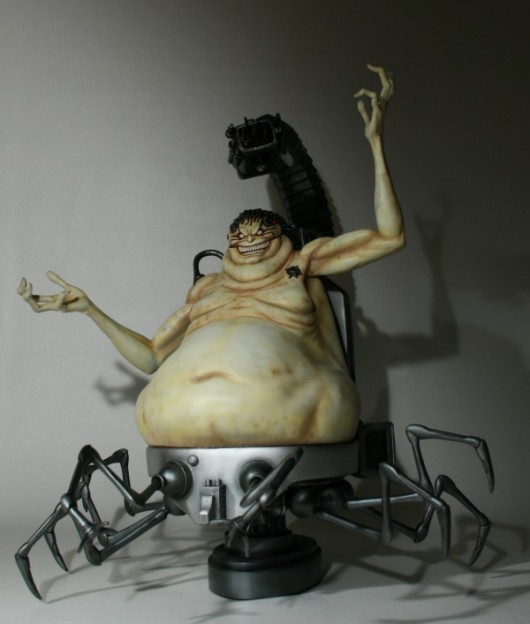 The 2015 summer movie season just got a bit more crowded; Fox announced last week that it was moving the Fantastic Four reboot for March to June. (Via ComicBook.com)
AMC has optioned yet another comic-based project, this time it's one of the greatest series the medium has ever seen, Garth Ennis & Steve Dillon's Preacher. I'm holding my excitement for casting announcements and creative talent involved. It's taking a lot of effort to hold that excitement. Knowing Seth Rogan is probably involved helps a bit. (Via Comic Book Movie)
Both Invincible and Thief of Thieves are getting the Minimates treatment before the end of the year! Check out the whole line-up here.
The great Stephen Hawking is getting his own bio-comic. Writer Jim Ottoviani and artist Leland Myrick are reteaming to turn the life and times of the world's smartest man into a graphic novel. Hollywood Reporter's Heat Vision blog has the details.
Bleeding Cool has a bit of info on a Vertigo bat-centric book from Paul Dini and Eduardo Risso, as well as a new Geoff Johns book featuring a solo character.
What in the world is this poster for? Certainly NOT a Wonder Twins film. /Film has a pretty great speculation, and I'm willing to bet they're spot on.
Check out this auction (via Comics Beat) to benefit inker Jim Sanders III health care after a failed kidney transplant. If you see something you like, please bid.
Thor 2 has made more money in its first few weeks than the original did in its entire theatrical run. Pretty impressive.
Green Arrow TV has 20 images from the upcoming episode of Arrow "The Scientist," which will feature the introduction of Barry Allen into the DC TV Universe. Deadline is also reporting that the backdoor pilot for a Flash series once planned for later  in the season will now be a standalone pilot, with hopes for a series. Also, our favorite vigilante is getting a mask in an upcoming episode, finally, as seen in the pic below. EW broke the news.
Chris Pratt told the Huffington Post that Marvel, "they pretty much own me for as long as they want," indicating that he's signed for multiple movies. You can read the whole interview here. They've also got an interview with Elizabeth Olsen, which eventually turns to her discussing her role as the Scarlett Witch in 2015's Avengers: Age of Ultron.
The New York Times has reported that Spider-Man: Turn Off the Dark is headed for Vegas and is closing on Broadway. Seems oddly fitting.
Zoe Saldana spoke to MTV News about Guardians of the Galaxy, while we're on the subject. Check out the interview below!
The Calgary Herald has news that X-Men: Days of Future Past is headed for reshoots.
However, this tweet from Bryan Singer implies that the former news isn't exactly accurate. As a big film guy, let me say, he's absolutely correct, there's a big difference.
In my next tweet I will explain the difference between pick- ups and "re-shoots" #XMen #DaysOfFuturePast #Montreal

— Bryan Singer (@BryanSinger) November 18, 2013
Check out this Kickstarter for a new way to compile your single issue comics into a one semi-bound book. It really has to be seen to understood!
Major Spoilers has a few stills from the upcoming animated Marvel film Iron Man & Hulk: Heroes United, out December 3rd. The one below is easily my favorite, you can check out the rest at the link.
Now, let's read some comics!
Bagged & Boarded

Harley Quinn #0 (DC)
After reading her Villain's Month issue and coming away disappointed, I was all set to NOT pick up the zero issue that would launch Harley Quinn back into her own title. It had to do with editorial direction and not the creative team announced, so let me just say I think Jimmy Palmiotti and Amanda Conner do fine work, I just have no interest in a DC based, female-centric version of Marvel's Deadpool character. I took some flack for calling her that in my previous review, but I think the writing's certainly on the wall here. But, I'm getting ahead of myself. I decided to pick it up, despite my better judgment, solely because of the controversy that bubbled up a few months ago surrounding one of the pages farmed out to an artist to pencil (Okay, knowing Sam Kieth drew a page helped a lot). Just Google it, it will take two days for me to explain it to you. Well, the scene was removed and replaced with something less "offensive." In hindsight, and putting what bit of information we got then into context now, it was a ridiculous thing for people to get riled up about. So, does the issue work? As a story? Absolutely not. As a set-up for a new series? Not in the slightest. As two creators getting their friends together to tell inside jokes and poke fun at each other? Yeah, that pretty much sums it up. It wasn't bad, I certainly enjoyed all the various incarnations of the character, but it's completely a throwaway issue. It's like that episode of Bugs Bunny where he finds out he's in a cartoon, only without the cathartic ending, and not as funny. The final page promises less breaking of the fourth wall type gags in the next issue, but I've already fallen for this twice now.
A Voice in the Dark #1 (Image)
A young girl moves away to college after killing someone, and now she plans to use her job as a late night radio call-in host to help he curb the dark thoughts taking over her mind. The story is quite interesting, but its slow pacing and languishing dialogue bogged it down at every turn. Written and drawn by Laramie Taylor, the art doesn't help with most of those issues either. Flat and lifeless, with a monochromatic tone, it looks like the illustrations you find on a first aid poster, only a bit more detailed. The whole thing starts to gel a bit more at the end, with a mysterious murder coming briefly into play and Zoey finally taking on her role as call-in host, but it's almost too late by that point. I hate to diminish the hard work of anyone, especially in the indie world, but there was a lot of wasted potential here, in regards to the story at least, if that worked better it would make the art more tolerable, but as is it's a totally detached slog.
Back Issues
Before last week I'd never read what is widely considered one of the greatest Spider-Man stories of all time, Kraven's Last Hunt. That all changed after my interview with Todd McCullough, when he cited it as an early and major influence on him as a young reader. Certainly I knew the story, I've been reading comics for a lot longer than I care to even say (out of shame about my age, not the fact that I read comics), so, it's come up a time or two. Maybe that's why I never bothered; sort of a comics version of seeing the movie and thinking you'd practically read the book. Well, I was wrong.
Set across the three Spidey-centric titles of the time (Web of Spider-Man #31-32, The Amazing Spider-Man #293-294 and The Spectacular Spider-Man #131-132), Kraven's Last Hunt (also known as Fearful Symmetry) opens shortly after the death of both Ned Leeds and a low level thug that had been one of Spidey's informants, as well as the marriage of Peter and Mary Jane. With Peter/Spider-Man under a severe amount of stress, Kraven picks the perfect opportunity to act on his long gestating feelings about the Web Slinger. Doping him up and burying him alive, Kraven then dons the black and white costume (or a version of it) and spends weeks "saving" New York as his vision of Spider-Man. Brutal, ruthless, and unsympathetic, Kraven makes the Wall Crawler a true public menace. Eventually he finds the perfect opportunity to prove he is the better Spider-Man, by besting Vermin, a foe Peter needed the help of Captain America to defeat, and who has now come up out of the sewers to kidnap and eat the pedestrians of NYC. I won't go any further, because, really, if you haven't read it, you very much need to.
It is one of the darkest, most compelling stories I've ever read in mainstream comics. I blew through my first reading in an hour, completely unable to put it down, and spent the next hour skimming back over some of my favorite moments. Written by J.M. DeMatteis, with art by Mike Zeck, it's both poetic and hauntingly beautiful, which sounds like a simplistic description, but those words are more apt than anything else I might use to describe the story. Despite not being a huge fan of the character, I have always been drawn to Spidey's rogues gallery, mostly because his villains fall more of the tragic side of the equation, often times being saddled with a fate they don't necessarily deserve. It's almost Shakespearean, and this is a story that perfectly encapsulates that. For all of Kraven's grandstanding and posturing, he's mostly right. No, Spider-Man isn't really to blame for his situation, or that of his ancestors, realistically he can't be, but he represents was. It's not a story with any clear, easy lines drawn; politically, socially or morally. That DeMatteis goes to the depths he does here makes me long for even good superhero storytelling, let alone something as great as this. Zeck's art adds so much weight to the story, and is so cinematic (a phrase I hate to use, but it's so perfect a description for this). There is a particular scene that I just simply cannot get out of my mind, and it involves nothing more elaborate than Spider-Man lowering himself from the ceiling behind Kraven's back. That's it. It's been playing in my head for days!
The ideas at play here are things we've seen to lesser effect several times (in the Spider-Man titles even) in the years since. In fact, Kraven's plan to prove he's a better Spider-Man than Peter is THE driving for behind The Superior Spider-Man, and Spider-Man as some sort of low-level mythological creature is something JMS explored back during his run on the title in the early 2000s. Here those things are but a small piece of the narrative, which allows them to exist, be contemplated, and never devolve into a confusing mess. It's a story that has me, for the first time in a VERY long time, wanting to seek out more of the Web Crawler's adventures, and to specifically dive into the early years of the character. That's a pretty high complement from someone who, before this, cited Sam Raimi's Spider-Man 2 as his favorite Web Head story.
—
Have some comics you'd like to recommend? Any books out there you think aren't getting their fare shake? Think I'm completely wrong? (You're probably right about that last one…) Email us, filmdispenser@gmail.com, and let us know. If you need to find the closest comics retailer to you, you can always head over to the Comic Shop Locator, punch in your zip code, and voila! That's it for this week's edition of Loose Staples. We'll see you in the funny books!
---
---
---