Loose Staples (10/17/13)
Welcome back to Loose Staples, your place for news, reviews and opinions of the goings on in the comic book world. You can peruse The Spinner Rack to catch up on all the talk around the web, check out my opinions on the latest comics with Bagged & Boarded, or discover something you may have overlooked with Back Issues. Well, get going!
The Spinner Rack
Before this column devolves into its usual silliness regarding the four color world, there's something serious I'd like to take a second to discuss. If you've been around the comics world at all in the last decade or more, you probably know the work of creator Steve Niles, most notably of the IDW series 30 Days of Night. Earlier this week Niles and his family lost nearly everything they had in a flood, and with no flood insurance, they're looking at a very hard road ahead. A Paypal email address has been set up so that fans can help the family get back on their feet, and it's no joke that every little bit helps. You can read more about it here, or just send your donation to HelpSteveNiles@gmail.com. Please, give what you can, if you can. Thanks.
Digital Spy has a pretty great interview with Will Arnett about the upcoming Teenage Mutant Ninja Turtles film.
A few weeks ago I surmised (well, I wasn't the only one…) that Guillermo del Toro's Justice League Dark film was probably shelved due to the Character of John Constantine being lined up for his own television show. Well, in an interview with IGN, del Toro says that's not the case at all, and that things are still in the works. I'm elated to have been wrong…now let's just keep our fingers crossed that it does actually happen.
Fox is still working on their Fantastic Four reboot, and /Film has the supposed shortlist of actors for a few of the roles. Honestly, outside of Michael B. Jordan donning the flames of the Human Torch, none of those names interest me in the slightest.
Kick-Ass 2 is hitting home video on December 17th, and ComicBook.com has a rundown of what we'll see in the bonus material.
The Superman/Batman/Man of Steel 2/WhateverTheyDecideToCallIt movie begins shooting this weekend. It's not principal photography, but, if you're in the area, it could be your chance to wind up in the soon-to-be blockbuster. Ain't It Cool has the details.
I've been hearing about the Miracleman (aka Marvelman) stories since I was in my late teens. Written by the likes of Alan Moore and Neil Gaiman, with art by Gary Leach, Rick Veitch, John Totleben and Mark Buckingham, it's been long out of print, though Marvel actually acquired the rights years ago and seemingly sat on it. Well, at the New York ComicCon last weekend they finally announced plans to reprint the entire series, and have apparently been going through painstaking efforts to restore the tales, and are even bringing Gaiman and Buckingham back to finish what they started. I'm looking forward to finally reading this groundbreaking work, but looks like I've got a bit longer, it won't see the light of day until January. Comic Related has more info.
That wasn't the only Marvel-centric news coming out of NYCC. They finally announced the line-up of their much-teased All-New Marvel Now books (It's a re-launch of a re-launch!). Comicosity has the complete list, so I'll just link to that rather than go through every title, but I do want to touch on a few. Three characters that have been oddly absent from the original re-launch are getting their own solo books: The Punisher, Ghost Rider, and Silver Surfer. The only creative team I'm familiar with is Surfer's; Dan Slott and Mike Allred. I'm on board, if only for Allred's interpretation of the character, and I'll definitely be checking out the other two to see how they fare. There are a slew of new Avengers-related books, including a Hickman-penned title, but I'm starting to feel the fatigue with characters, so I may actually be dropping them altogether after Infinity wraps up. I am interested in James Robinson on an Invaders series, and I've always had a place in my heart for The New Warriors, and I enjoy Chris Yost's work, so I'll be in for the first arc on that title at least. I find it odd that there are a good bit of re-launches of already existing series, most with the same creative teams…I guess there's just no denying the power of a #1 issue.
Finally (I saved the shameless self promotion for last), be sure to check out all of Film Dispenser's coverage of the massively-fun Agents of S.H.I.E.L.D. series on ABC. We've got a rundown/review of the latest episode, as well as the SHIELD Your Ears podcast with Spencer, Justin and I discussing what we liked and didn't like. But, even the stuff we don't like we still have a good time with. So, go, check it all out!
Now, let's read some comics!
Bagged & Boarded
X #6 (Dark Horse)
I've been really enjoying Dark Horse's re-launch (that's like the tenth time I've used that word this week) of its Comics' Greatest World line, with X being the clear standout of the bunch. Written by Duane Swierczynski, with art by Dustin Nguyen, this issue mostly works as a stand-alone, following the one-eyed vigilante as he takes down a group of crooked cops. The book isn't trying to be anything other than a tense, pseudo-crime noir story, and because of that it complete works for me. Swierczynski has a great handle on the grim dialogue of X, and manages to balance it out nicely with the more sarcastic Leigh, his now-sidekick. Nguyen's art is pitch perfect, and part of that is definitely due to colorist Michelle Madsen. Together the two create a world that's so familiar, yet a complete contrast to our own. Dark, moody, action-packed, it's everything you would want from a book about a guy wearing a mask and beating up the baddies.
Cable & X-Force #15 (Marvel)
The fact that there are two X-Force books is still a baffling one to me, especially seeing as they have little to do with each other, but, really that's neither here nor there for discussing this issue. Dennis Hopeless has done a fantastic job of redefining what the original core concept of X-Force was way back in the 90s, while still staying true to the intent behind it. It's been nice to have Cable back to being more like Cable, a pro-active soldier in the fight to save mutant kind, but really the book shines when we get to see the rest of the team. Particularly Domino, Colossus and Dr. Nemesis, and maybe Forge and Hope to a lesser degree (Boomer is absolutely grating, but I kind of think that's the point). Up until now the main focus has been on Cable's new precognitive powers, but this issue sets up what looks like a possible Forge-centric arc, with Nemesis and Boomer running around (virtually, anyway) his mind and discovering there's something else there. I really dug Hope taking on the Reavers (when's the last time we saw that band of merry men?) and the flirtatious butt-kicking Domino and Colossus shared as they took on a Sentinal and another group of baddies. It will certainly be interesting to see how Hopeless juggles the three arcs he's set in motion here, and how/if he'll tie them all together. Gerardo Sandoval pulls art chores for the issue, and while I'm certainly more partial to Salvodor Larocca's work, I think he does a pretty great job of filling in. It might not be the best issue of this series yet, but it's nice to see the other characters getting some more screen time. And, really, I can't get enough of Nemesis, the guy needs his own book, and Hopeless needs to be writing it.
Imagine Agents #1 (Boom!)
Set in a world where imaginary friends aren't just real, they're creatures from another…realm…planet…no one's sure, and only children under the age of 8 can see them, Imaginary Agents is essentially Men in Black meets Foster's Home For Imaginary Friends, which is fine, because I like both of those things quite a bit. It opens on two I.M.A.G.I.N.A.R.Y. Agents (don't ask, just go with it) who are tasked with retrieving a few "friends." One of them is a danger to his human, and the other has simply been outgrown. Things go sour when they receive an emergency call that the mysterious (and evil, can't forget that) Dapple has been spotted, and they set out to catch him. The issue does a great job of just throwing you into this world, dropping slight exposition when necessary to fill in any gaps the narrative might hit. The MiB comparison is unavoidable, unfortunately, but I really think creator/writer Brian Jones has hit on something almost-unique, but definitely a lot of fun. The artist on the book is Bachan, who I'm completely unfamiliar with, but the creature designs are all pretty stunning, and while I hate to use this word, the "cartoonish" nature of the art adds to the playful tone of it all, while contrasting with some of the more serious overtones the issue takes towards the end. It's a great all-ages story that doesn't pander in the slightest, the premise is definitely interesting, and the writing and art are pretty top notch. You can't go wrong with this one.
Back Issues
The fact that I absolutely love good crime fiction makes my unfamiliarity with Ed Brubaker's work within the genre pretty unforgiveable. I have read some of the writer's work, mostly his Marvel Comics stuff, like his run on Daredevil (which could qualify for the genre, for sure) and the occasional superhero mini-series he penned. So, yes, for those who have known for years how great a crime noir author Brubaker is, that means I haven't read a lick of Sleeper, Incognito (which falls more on the pulp hero side of things), Criminal, Fatale, Point Blank, or Gotham Central. Before this week Scene of the Crime would have been on that list as well, and after finally reading it, I'm pretty eager to catch up with all the rest.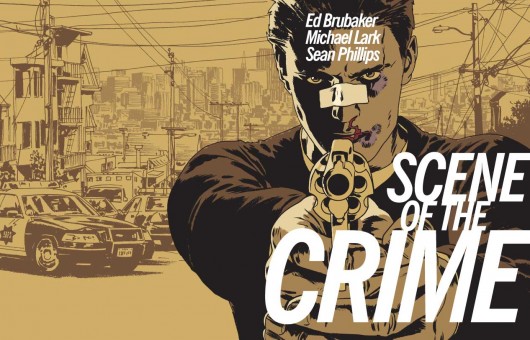 Scene of the Crime follows private detective Jack Herriman as he investigates the disappearance of a woman, Maggie Jordan, at the insistence of an old family friend, and SFPD detective, Paul Reynolds. Jack quickly discovers that things aren't as simple as they seemed and becomes entangled in a world of cults, murder, drugs and deviant behavior that would turn anyone's stomach. Originally published by Vertigo (I read the original issues, which have been sitting in my "to read" box for years and years), it's currently available in a nice looking hardcover from Image, which I'd certainly recommend over trying to track down the four individual issues. It's definitely one I'm going to get, even though I already have the singles.
As I mentioned, it's written by Brubaker, and as great as he is at weaving this twisted noir, never getting too far ahead of the reader, and certainly never letting the reader get ahead of the main character, a lot of what makes the book such a page turner is artist Michael Lark (with the great Sean Phillips inking from issue 2 onward). He captures that seedy world that's all too familiar to fans of the genre quite well. Both in story and art, Scene of the Crime immediately invokes great works like Chinatown, The Big Sleep, and The Long Goodbye. Yes, it plays with all the familiar tropes, and in that way it's a completely typical crime noir/mystery, but it really is the mark of great story tellers that they can take those recognizable, well-worn ideas and make them feel brand new.
Have some comics you'd like to recommend? Any books out there you think aren't getting their fare shake? Think I'm completely wrong? (You're probably right about that last one…) Email us, filmdispenser@gmail.com, and let us know. If you need to find the closest comics retailer to you, you can always head over to the Comic Shop Locator, punch in your zip code, and voila! That's it for this week's edition of Loose Staples. We'll see you in the funny books!
---
---
---